Clear the approach to use Radiance in OpenStudio without getting "run ModelToRad" error
Dear all,
I want to run Radiance using OpenStudio. However, I am getting this error "failed to run ModelToRad". I have read all the answers so far and did all the steps below:
Install Radiance in a nice short path (c:).
Choose a very simple name without space or punctuation for the OpenStudio's file as well as its path
Scan tools to find the routs to Radiance, EP and Ruby
Install EP to a default directory (I suspect I did this step wrong)
Could you please explain why I am still getting this error? The model I am runing is a very simple box. I am using EP 8.2, OpenStudion 1.7, and Radiance version 5.0.a.3. I already defined an illuminace map, a lighitng control and a glare sensor.
FYI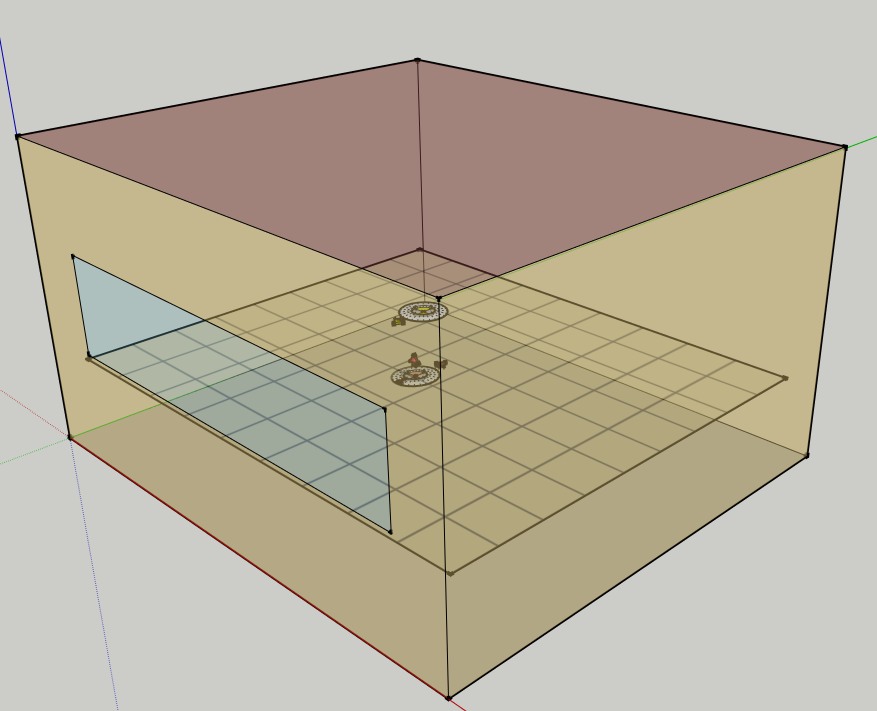 [openstudio.runmanager.LocalProcess] <1> Starting LocalProcess: C:/EnergyPlusV8-2-0/EnergyPlus.exe [openstudio.radiance.ForwardTranslator] <0> IlluminanceMap Illuminance Map 1 is not associated with this Space's ThermalZone, it will not be translated. [openstudio.radiance.ForwardTranslator] <1> Model does not contain any Radiance daylighting objects. no sql file given, running EnergyPlus... Creating rundir: C:/Users/apptestacc/AppData/Local/Temp/OpenStudio.Rx4172/resources/run/1-Ruby-0/in/model/radiance/geneplus/ Creating workflow Running jobs The job in 'C:/Users/apptestacc/AppData/Local/Temp/OpenStudio.Rx4172/resources/run/1-Ruby-0/in/model/radiance/geneplus/3-EnergyPlus-0' has warnings. WARN: ProcessScheduleInput: Schedule:Compact="HVACTEMPLATE-ALWAYS 4", Schedule Type Limits Name="HVACTEMPLATE ANY NUMBER" not found -- will not be validated WARN: GetHTSurfaceData: Surfaces with interface to Ground found but no "Ground Temperatures" were input. Found first in surface=SURFACE 1 Defaults, constant throughout the year of (18.0) will be used. The job in 'C:/Users/apptestacc/AppData/Local/Temp/OpenStudio.Rx4172/resources/run/1-Ruby-0/in/model/radiance/geneplus/4-ModelToRad-0' did not finish successfully. ERROR: Model does not contain any Radiance daylighting objects. Radiance export aborted. Adding path for local perl: C:/Program Files/OpenStudio 1.7.0/strawberry-perl-5.16.2.1-32bit-portable-reduced/perl/bin Setting RAYPATH: C:/radiance/lib, C:/radiance/bin, '.' Appending PATH: C:/radiance/bin, '.' 2015-06-18 20:32:16 UTC: running 'ruby -I 'C:\Users\apptestacc\AppData\Local\Temp\OpenStudio.Rx4172\resources\run\1-Ruby-0' -I 'C:\Program Files\OpenStudio 1.7.0\Ruby' -I 'C:\Program Files\OpenStudio 1.7.0\ruby-install\ruby\lib\ruby\siteruby\2.0.0' -I 'C:\Program Files\OpenStudio 1.7.0\ruby-install\ruby\lib\ruby\siteruby\2.0.0\x64-msvcrt' -I 'C:\Program Files\OpenStudio 1.7.0\ruby-install\ruby\lib\ruby\siteruby' -I 'C:\Program Files\OpenStudio 1.7.0\ruby-install\ruby\lib\ruby\vendorruby\2.0.0' -I 'C:\Program Files\OpenStudio 1.7.0\ruby-install\ruby\lib\ruby\vendorruby\2.0.0\x64-msvcrt' -I 'C:\Program Files\OpenStudio 1.7.0\ruby-install\ruby\lib\ruby\vendor_ruby' -I 'C:\Program Files\OpenStudio 1.7.0\ruby-install\ruby\lib\ruby\2.0.0' -I 'C:\Program Files\OpenStudio 1.7.0\ruby-install\ruby\lib\ruby\2.0.0 ... (more)
Comments