I finally managed to set up my optimization run with RVX objective file in JEPLUS+EA. The run is starting normally but stopps after the first generation:-( No error is shown. It just does not continue.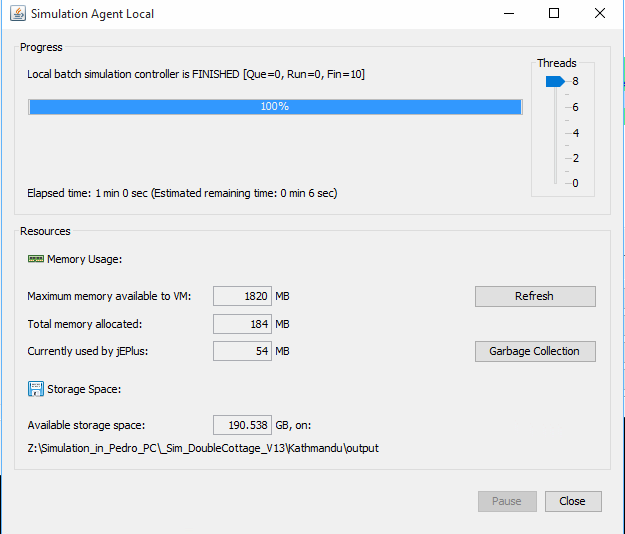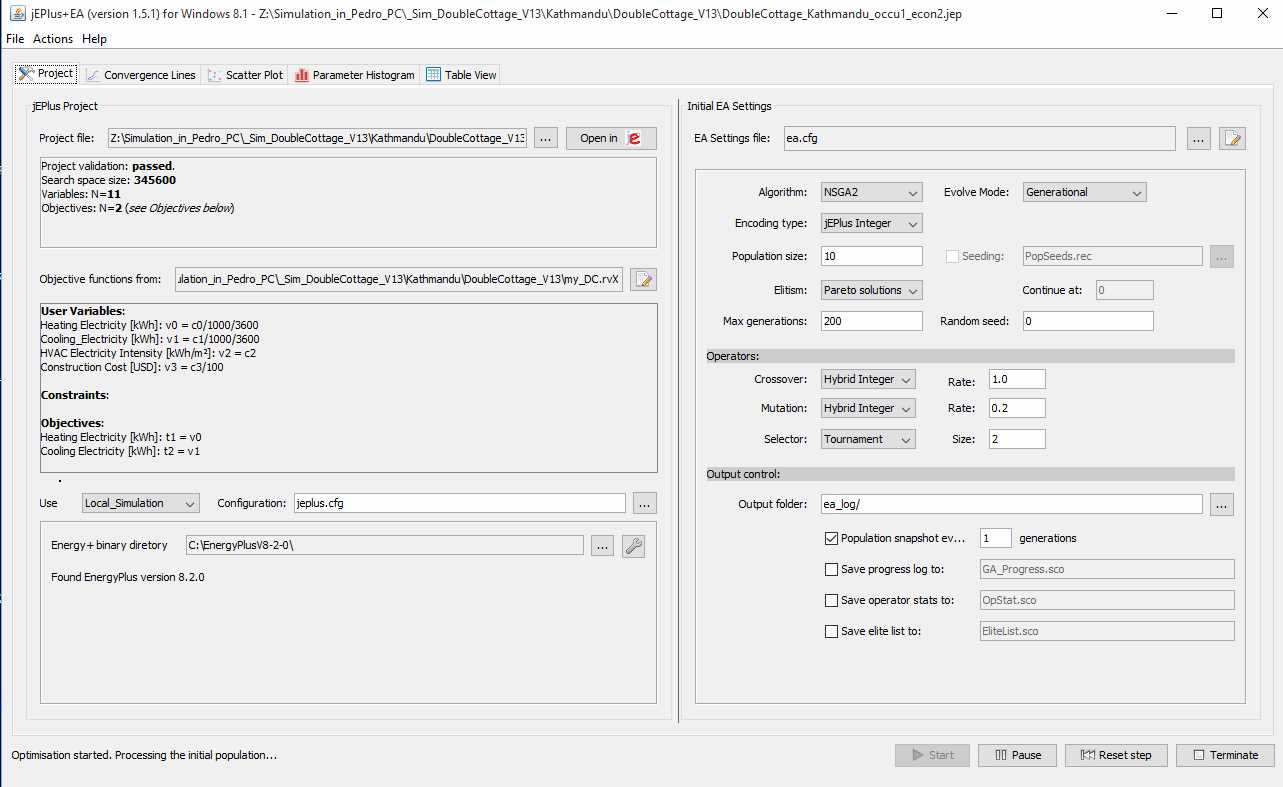 Any idea why? Is there any incompatibility with windows 8 or 10?
Below you find my rvi file.
eplusout.eso
eplusout.csv
Heating:Electricity
Cooling:Electricity
0
!-sqlite
! Output file name; Column headers; SQL command
HVAC_Electricity;HVAC Electricity Intensity [kWh/m2];SELECT Value FROM TabularDataWithStrings WHERE (TableName='Utility Use Per Conditioned Floor Area' AND RowName='HVAC' AND ColumnName='Electricity Intensity')
Construction_Cost;Construction Cost [NPR]; SELECT Value FROM TabularDataWithStrings WHERE (TableName='Construction Cost Estimate Summary' AND RowName='Cost Estimate Total (~~$~~)' AND ColumnName='Current Bldg. Model')
!-end sqlite

!-objectives
! Name of the objective; unit; formula (c0, c1, c2... are columns in the result table generated from the statements above)
Heating Electriciy;kWh;c1/1000/3600
Cooling Electriciy;kWh;c2/1000/3600
HVAC Electriciy;kWh/m2;c3
!-end objectives

RVX file:
{
    "notes": "Some notes about this RVX",
    "rvis": [
        {
            "fileName": "my.rvi",
            "tableName": "SimResults"
        }
    ],
    "sqls": [
        {
            "tableName": "HVAC_Electricity_Intensity",
            "columnHeaders": "HVAC Electricity Intensity [kWh/m²]",
            "sqlcommand": "SELECT Value FROM TabularDataWithStrings WHERE (TableName='Utility Use Per Conditioned Floor Area' AND RowName='HVAC' AND ColumnName='Electricity Intensity')"
        },
        {
            "tableName": "Construction_Cost",
            "columnHeaders": "Construction Cost [NPR]",
            "sqlcommand": "SELECT Value FROM TabularDataWithStrings WHERE (TableName='Construction Cost Estimate Summary' AND RowName='Cost Estimate Total (~~$~~)' AND ColumnName='Current Bldg. Model')"
        }
    ],
    "userVars": [
        {
            "identifier": "v0",
            "formula": "c0/1000/3600",
            "caption": "Heating Electricity [kWh]",
            "report": true
        },
        {
            "identifier": "v1",
            "formula": "c1/1000/3600",
            "caption": "Cooling_Electricity [kWh]",
            "report": true
        },
        {
            "identifier": "v2",
            "formula": "c2",
            "caption": "HVAC Electricity Intensity [kWh/m²]",
            "report": true
        },
        {
            "identifier": "v3",
            "formula": "c3/100",
            "caption": "Construction Cost [USD]",
            "report": true
        }
    ],
    "objectives": [
        {
            "identifier": "t1",
            "formula": "v0",
            "caption": "Heating Electricity [kWh]",
            "scaling": false,
            "min": 0,
            "max": 10000,
            "weight": 1
        },
        {
            "identifier": "t2",
            "formula": "v1",
            "caption": "Cooling Electricity [kWh]",
            "scaling": false,
            "min": 0,
            "max": 10000,
            "weight": 1
        }
    ]
}