FullInteriorAndExteriorWithReflections Solar Distribution with Concave Zones in E+
Hello wonderful unmethours community,
Many of us on the forum are already familiar with the fact that E+ cannot model FullInteriorAndExteriorWithReflections solar distribution with concave zones and this usually results in a CHKBKS error.
I am posting here mostly as a sanity check that my current workflows are the best that I can do right now since I usually have a need to do for FullInteriorAndExteriorWithReflections solar distribution in order to run detailed radiant thermal comfort studies with E+. Much of the time, I end up downgrading the solar distribution to FullExteriorWithReflections, which puts all beam solar into the floor and distributes the diffuse solar to other zone surfaces by view factor.
However, someone had tipped me off that the Radiance eplus_adduvf function might be able to compute the view factors needed for this solar distribution for me and avoid this error. However, my attempts to get this to run have proven ineffective: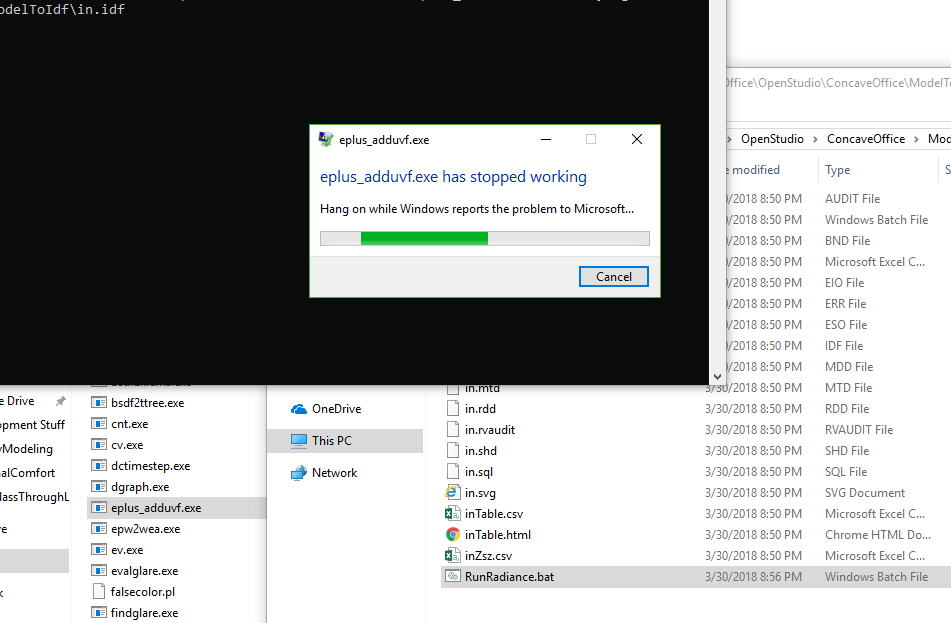 [UPDATE] I was able to get eplus_adduvf to run by reinstalling Radiance and NOT using the version of Radiance that is distributed with OpenStuido (there seems to be an issue with running the function from that folder). However, after successfully running eplus_adduvf, it did not fix this solar distribution issue (I still get the error after running the IDF). This eplus_adduvf function seems to be only made to compute view factors in between surfaces and not the parameters needed for detailed solar distribution.
The only other workflow I can think of that might address the issue is using a BSDF window material in E+ but I have not tested this yet. [UPDATE] I tested it and it has not made the error go away.
Can anyone confirm downgrading the solar distribution is still the best way to deal with this situation at this time and, if not, what is the best course of action to enable the most accurate solar distribution calculation for concave zones in E+
Thank you,
-Chris