Turn off AirLoopHVACUnitarySystem at night but with a Night Cycle control
I'm trying to shut down my airloops at night, but to have an AvailabilityManager:NightCycle to turn them back on if the temperature drifts too far. I want to turn them off from 6PM to 8AM the next day, so I've created a schedule that I'll call hvac_op_sch in the following, with 1 for daytime and 0 for nighttime.
Usually that works out very well, but in this case I'm using AirLoopHVACUnitarySystem and cannot figure out how to do it.
I have multiple air loops that are working with 100% during daytime (and a lot of flow too!) and nothing at night. They look like the following: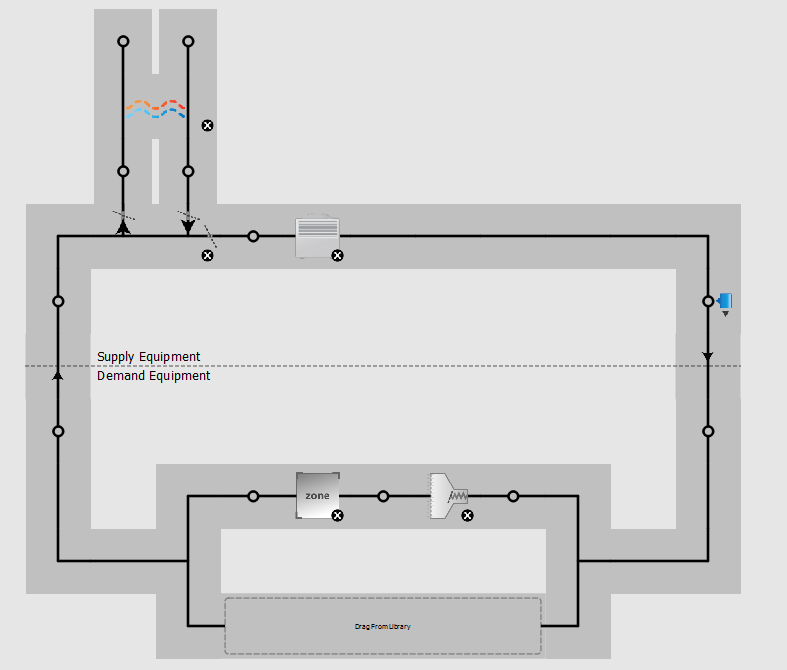 Here's my setup:
AirLoopHVACOutdoorAirSystem:

I've set the Minimum Outdoor Air Schedule Name to be my hvac_op_sch. That triggers an AvailabilityManager:Scheduled for the Outdoor Air System.
I've hard sized the Minimum Outdoor Air Flow Rate and the Maximum Outdoor Air Flow rate to my design flow rate and set the Minimum and Maximum Fraction of Outdoor Air Schedule Name to be Always 1.

AirLoopHVAC: I've set an AvailabilityManager:NightCycle to have the hvac_op_sch

AirLoopHVACUnitarySystem:

For the record it has a Fan:ConstantVolume, a WaterToAir heating and cooling coils.
I've set the Supply Air Fan Operating Mode Schedule Name to Always_1, otherwise the outside air was cycling with the system during the daytime.
I've tried setting the Availability Schedule to both Always_1 and hvac_op_sch
If Always_1: the flow continues even at night, which leads to much higher energy consumption than needed. The AvailabilityManager:NightCycle has no effect ** whatsoever!
If hvac_op_sch: everything shuts down at night, but the AvailabilityManager:NightCycle again has no effect and won't turn the system back on and I end up with a ton of unmet hours.
How can I have this system behave like a regular airLoopHVAC and have the AvailabilityManager:NightCycle do its job?
Comments