This isn't a bug, just regular behavior of OpenStudio/EnergyPlus. In EnergyPlus, the concept of OpenStudio Spaces doesn't exist. Only thermal zones matter.
So historically in OpenStudio if you model separate spaces and include them in a single thermal zone, the area from the upper space is excluded of the building Floor Area. According to this answer, "OpenStudio does this for any interzone floor/ceiling surfaces whether they have an air wall construction or not".
---
I just tested in OpenStudio 1.9.0 (Release candidate), and it seems this may not be the case anymore. I applied a single zone to two spaces right above each other in the Sketchup plugin, and
Note that using the Surface Matching tool is very important to have this behavior, if not matched, the area of the top space will still be included (but your heat transfer will be wrong).
You could set the ceiling of the space below and the floor of the space above to Adiabatic (and assign construction) and it counted the area of both by default.
Here are my thermal zones: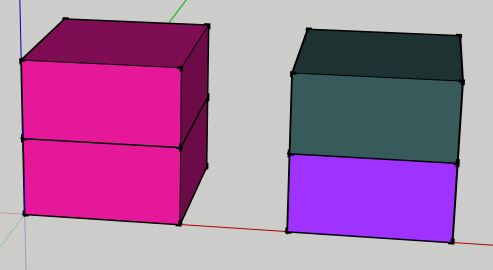 Here is the top space selected, with the option to set it as 'Part of Total Floor Area' highlighted: