Consideration of External Radiation
I'm trying to understand the basic calculation mechanics of EnergyPlus, and now I'm reading the I/O Reference and EngineeringReference on how external radiation (both short-wave and long-wave) is taken into account.
Please take a look at the following tables that I summarized. These tables with some relevant input fields just show my understanding.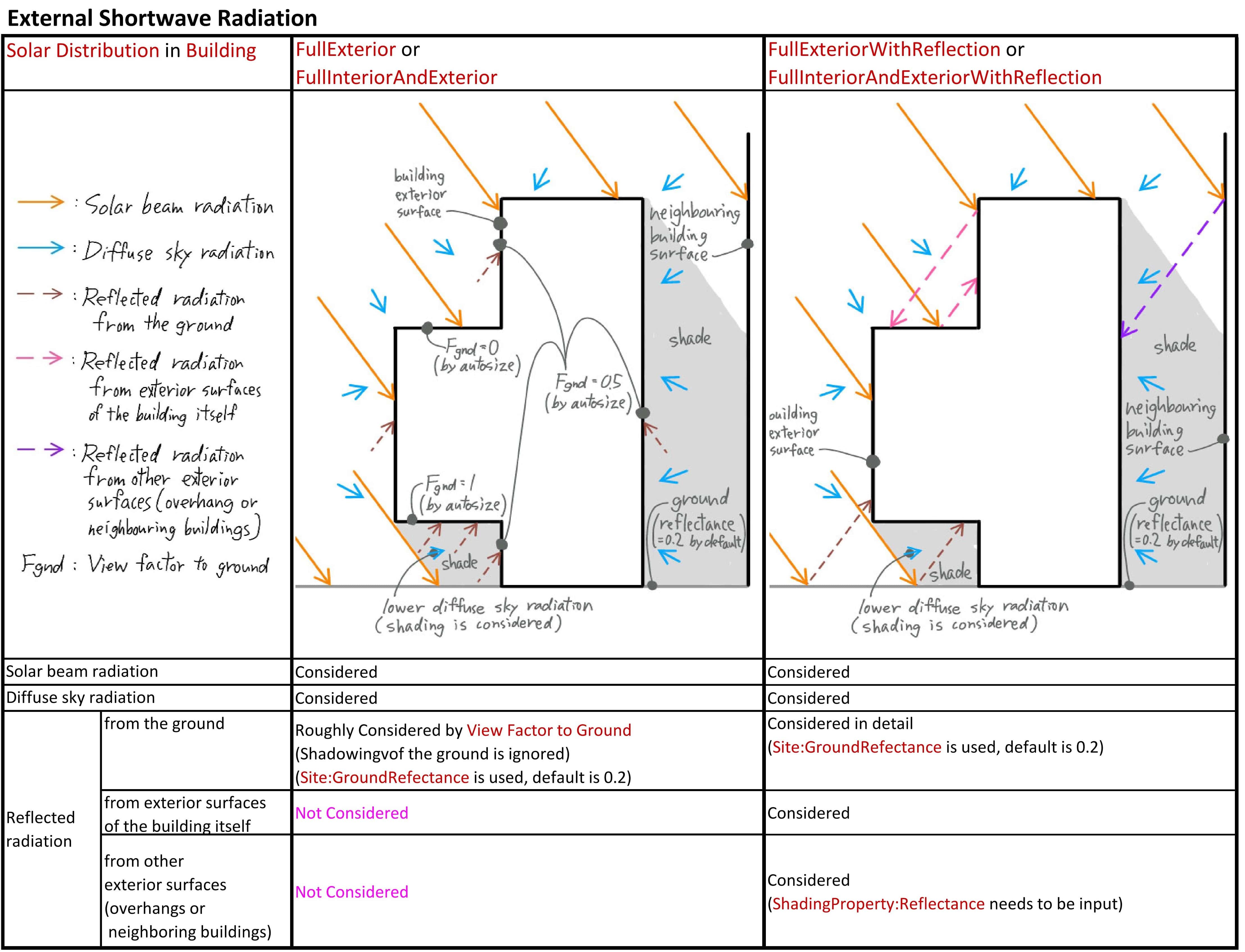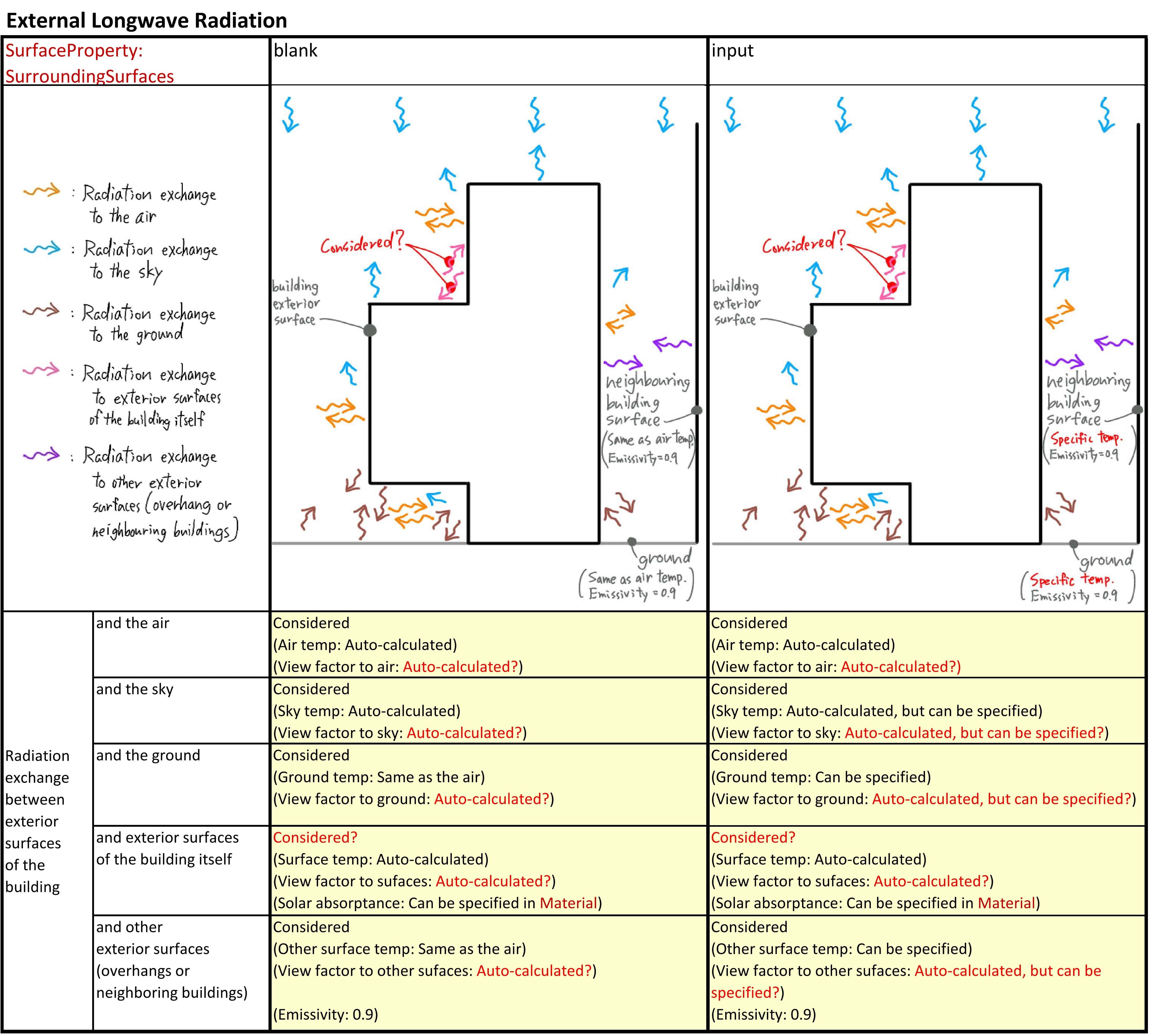 My questions are:
For external longwave radiation, are View Factors to the ground, the sky, the air and the surrounding surface automatically caluculated in EnergyPlus? I refered to EngineeringReference, but I can't find input fields of those view factors in IDF files. SurfaceProperty:SurroundingSurfaces has input fields of Sky View Factor and Ground View Factor, but they are optional (not mandatory).
For external longwave radiation, is radiation exchange between one exterior surface of the building and another exterior surfaces of the building itself considered in EnergyPlus? For example, in my summary table, does the roof with high surface temperature affect the surface temperature of the nearby wall? If so, where should I refer to in EngineeringReference or I/O Reference?
For external longwave radiation, can we change the emissivity of the ground and the neighbouring buildings? EngineeringReference says that the emissivity is 0.9.
Is there anything incorrect with the above tables? I'd appreciate it if anyone could point it out.
Answers to not all but just one of the questions would be appreciated.
---
P.S.
I read I/O Reference and EngineeringReference again, and the answers to my question 1 should be
View Factors to surrounding surface: Need to specify. View Factors to ground, sky and air: Yes, but very roughly calculated only by the angle of the surface.


I guess that the above very simple calculation is used because the calculation of view factors is generally quite complicated and the effect of longwave radiation on heat balance is not so significant. On the other hand, view factors are calculated in detail in shading of solar beam because it affects much on the heat balance.
By the way, I have another 2 questions.
5.For external longwave radiation, why is "View factor of surrounding surface to exterior surface" used when there is a surrounding surface? To me, "View factor of exterior surface to surrounding surface" is reasonable, and I/O Reference and EngineeringReference look incorrect.


6.If Surrounding Surface 1 View Factor is specified in SurfaceProperty:SurroundingSurfaces, is it the same value for all external surfaces of the building including roofs and walls that are completely hidden from the surrounding surface? I think it's realy strange. But I/O reference says it's "constant". SurfaceProperty:SurroundingSurfaces doesn't have input fields to specify targeted building external walls.
Please refer to my supporting sketches as below.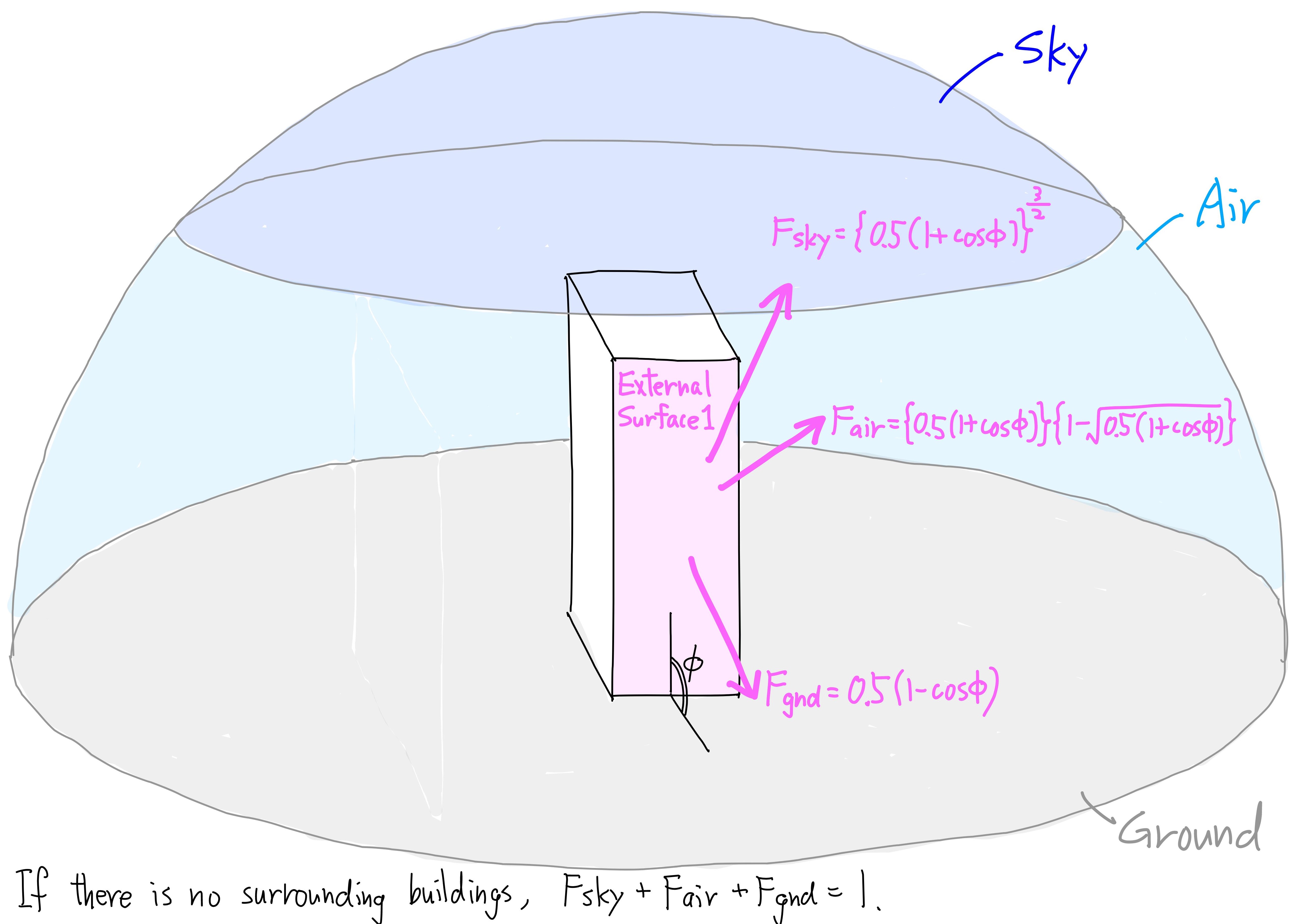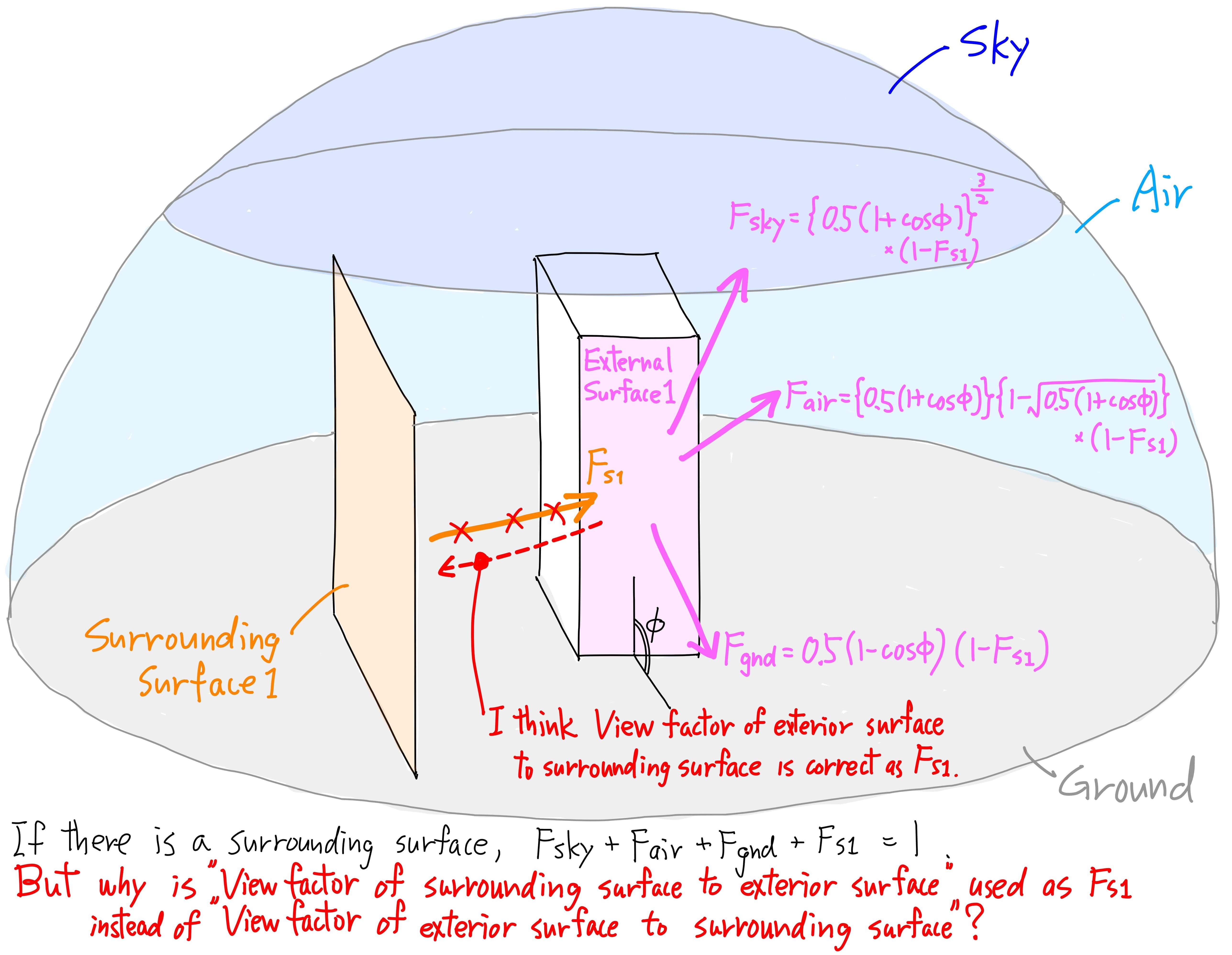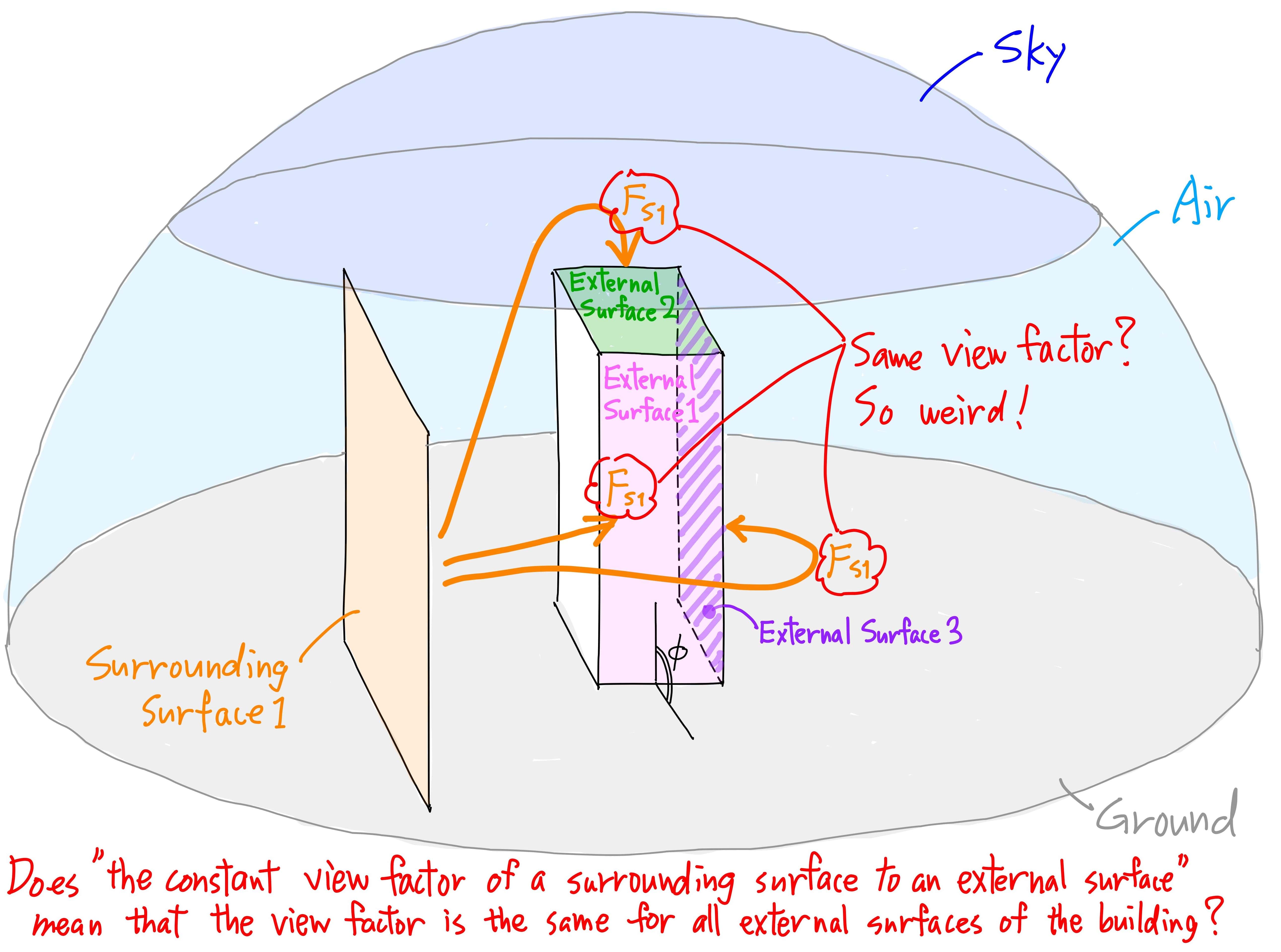 Comments