Two Splitter-Mixer Supply Pairs on Condenser Loop
I have a design with a large condenser loop with 3 cooling towers and a heat exchanger to a hot water loop to keep the loop between 60F and 80F. Each cooling tower has a pump in series to pump from the condenser loop to the tower, but the condenser loop also has three more larger pumps to pump through the building that are in parallel and stage as needed. I know EnergyPlus only allows for one set of splitter-mixed pairs on each the demand and supply side, so I was wondering what the best way to workaround this is? The image below shows the setup, but I obviously can't add the second group of pumps in parallel on the supply side - I have a boiler in place of an HX at the moment.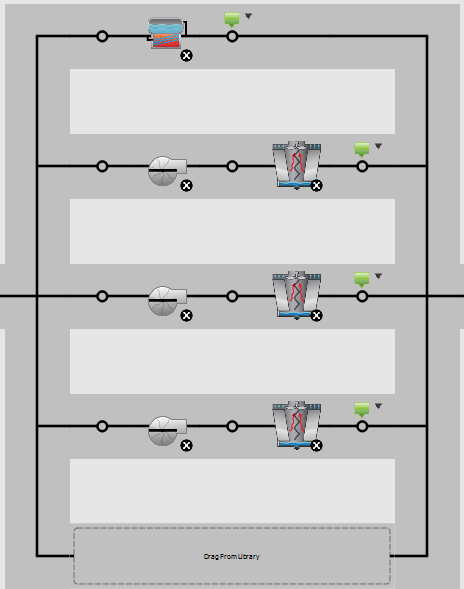 Would it make sense to treat it as a primary-secondary loop with the cooling towers and smaller pumps on their own loop with 3 heat exchangers on the demand side, and then on the condenser loop have those 3 heat exchangers with the other pumps on the supply side of the actual condenser loop? This wouldn't allow for me to control for the hot water heat exchanger (boiler in the image), but it's getting quite close. Anyone had a similar scenario or know of a better way?