Unit Ventilator Economizer
I have a model in OpenStudio v2.6 with ~50 zones served by a 4-pipe fan coil w/ an economizer. Ventilation to the zones is provided by a central DOAS system. I'm using the Unit Ventilator Object w/ an ON/OFF Fan + Heating and Cooling coils to model the 4-pipe fan coils, and the zones are connected to a central Air loop to model the DOAS.
However, i have been unable to get the economizer on the Unit Ventilator to operate correctly. Ideally the system would operate only in cooling mode and provide a varying amount of outside air depending on temperatures and load. Something like the diagram shown below.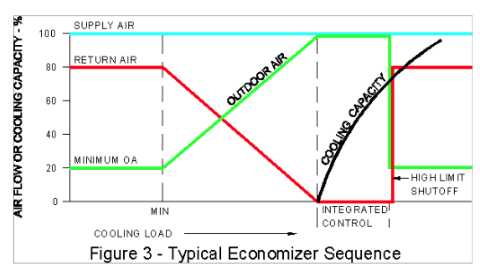 At first glance of the description of the Input/Output reference guide, the Variable Percent control seemed to offer the correct control capabilities.

However, the control description further down in the Input/Output reference guide seems to contradict this and says that in both heating and cooling mode, the outside air is set to minimum for both heating and cooling.


When I applied the Variable Percentage control to the Unit Ventilator, the system only delivers the minimum outside air and never modulates up based on conditions. Am I using the correct zone equipment/controls I need?