Coil, Fan and VRF Terminal not Operating Continuously on VRF System
Hello Team,
I am facing an strange problem with my energetic simulation. I am trying to subimit a VRF system to LEED and as I understand some VRF terminals can not read the schedule that is associated to them.
So I have a VRF System with multiple VRF Terminals and most of them are thermal zones associated with people thermal comfort and some others are critical mission thermal zones.
As an exemple of a critial mission thermal zone, I am evaluating thermal zone named 003_SL_TEC_LESTE and it is associate with VRF ZONE TERMINAL COOLING COIL 347. This zone is an IT ROOM and the HVAC must be ON 24/7. The explained bellow is happening for all critial mission thermal zones.
First thing I analyzed was COOLING COIL RUNTIME FRACTION and FAN AIR MASS FLOW RATE, and dispite the fact that both the fan and the coil have the same working schedule (Always On Discrete hvac_library) they are not operating both continuously (see pictures 1, 2 and 3 bellow).
Picture 1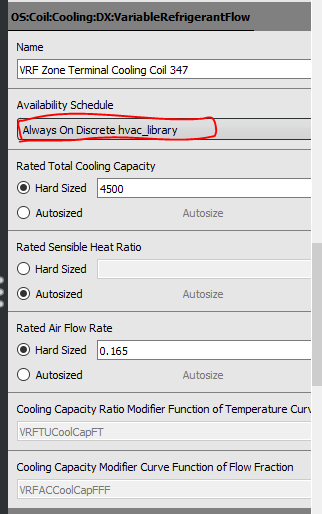 Picture 2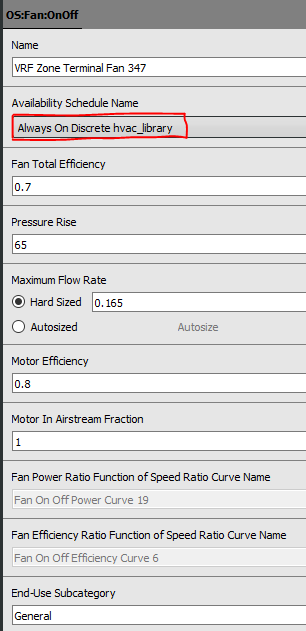 Picture 3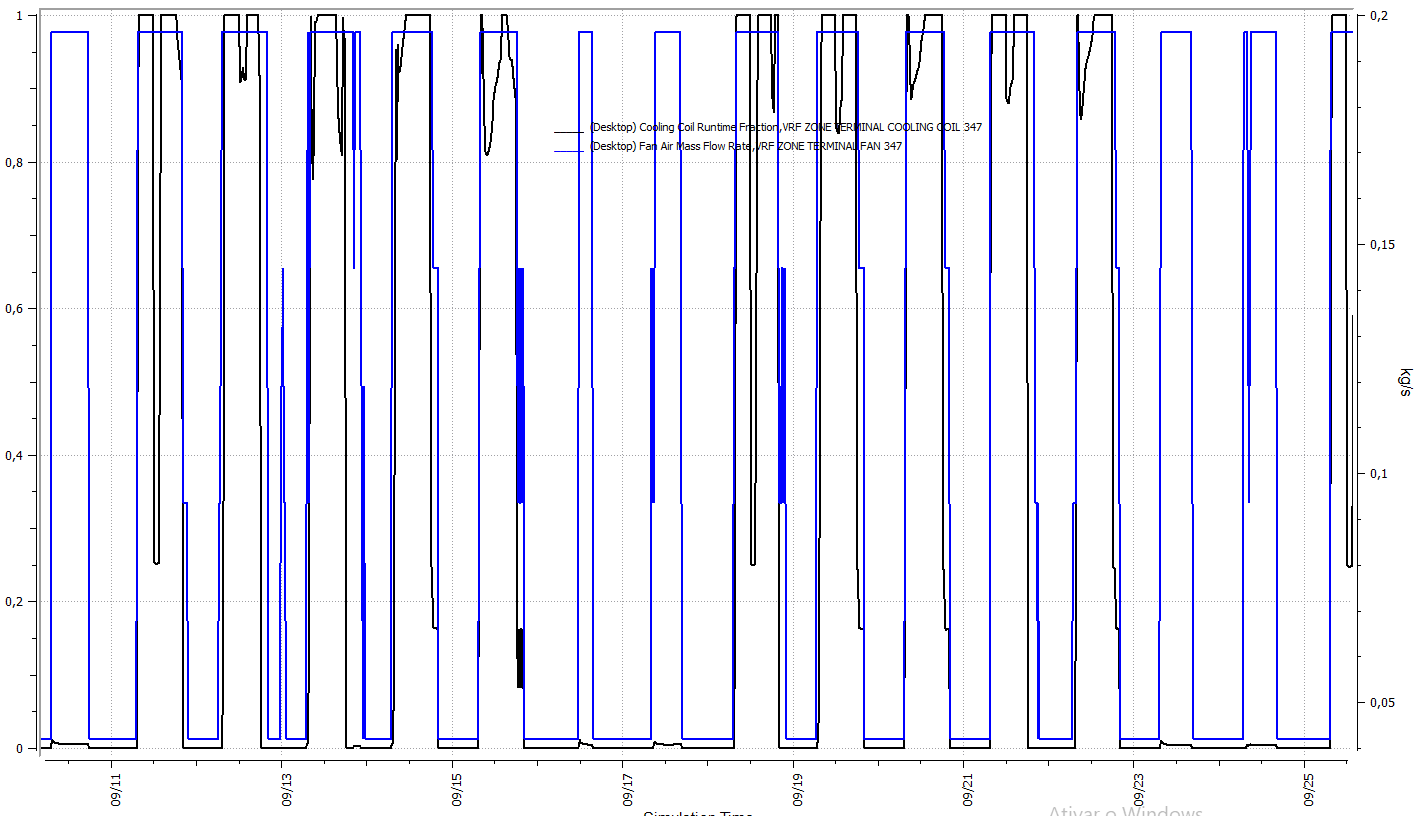 Then I checked the ZONE THERMOSTAT and the ZONE AIR TEMPERATURE, and I had the same conclusions: Despite the fact that the HVAC system (VRF TERMINAL) is schedule to be ALWAYS ON and its setpoint should be controled by the thermostat (set to be always on 23 degrees, picture 4), the coil is only working on business hours on weekdays (see picture 4 bellow).
Picture 4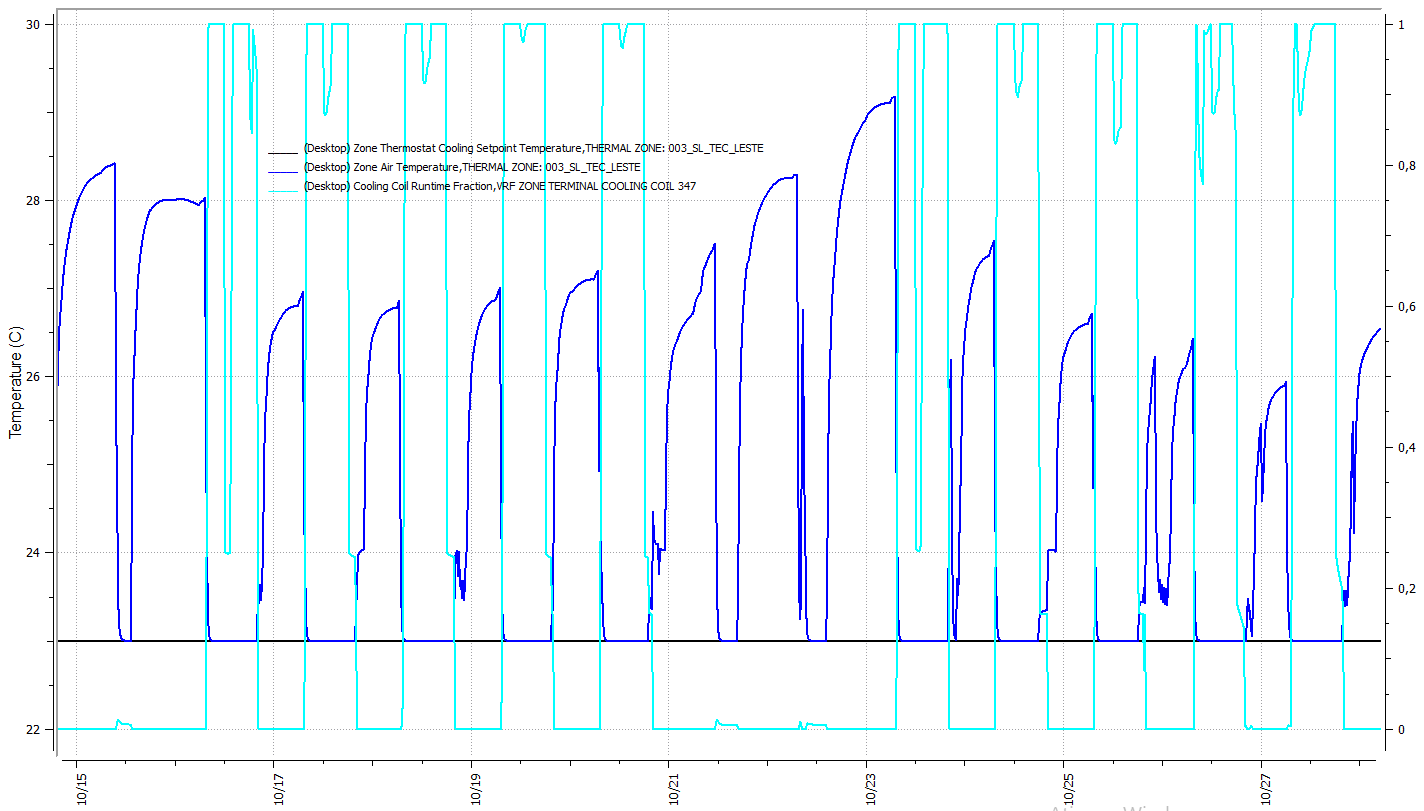 As all other zones in my VRF system operate only on business hours, I assume all mission critical thermal zones are copying their schedules, but I could not change it.
Also, I opened the .IDF file to check if Open Studio was reading the wrong schedule and it apper to be all right to me (see picture 5, 6 and 7 bellow).
Picture 5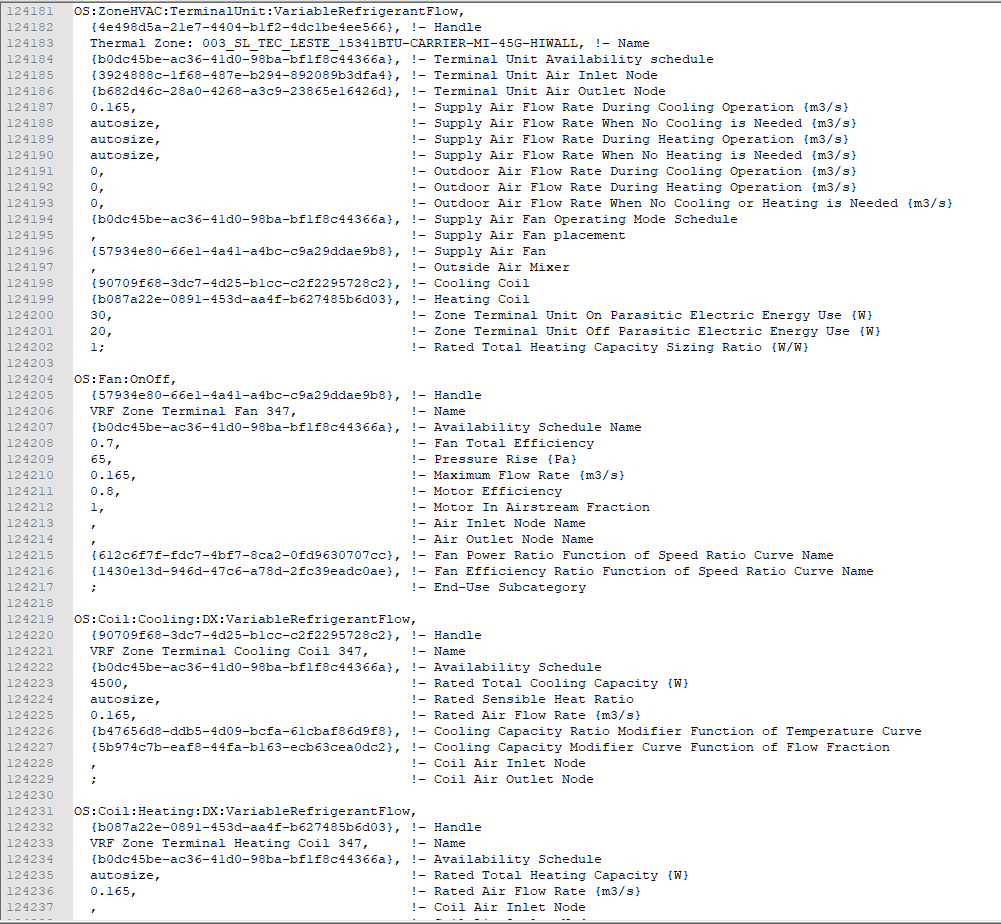 Picture 6

Picture 7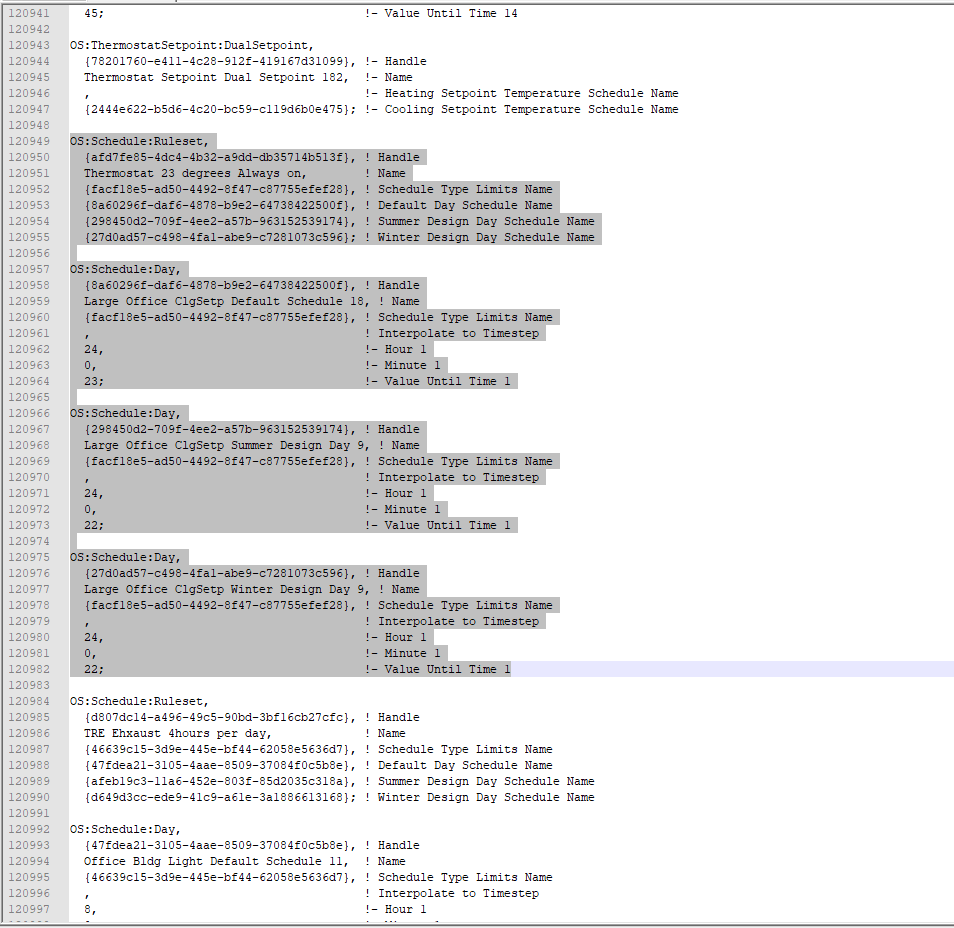 Adding to that the analisys of the coil operation, I can see it is operating from 7 am to 9:45 pm on a weekday(picture 8), operating from 7:15 am to 4:30 pm on weekends (picture 9) and that the coil is operating everyday (picture 10), contradicting the RunTimeFraction graph, which makes no sense to me.
Picture 8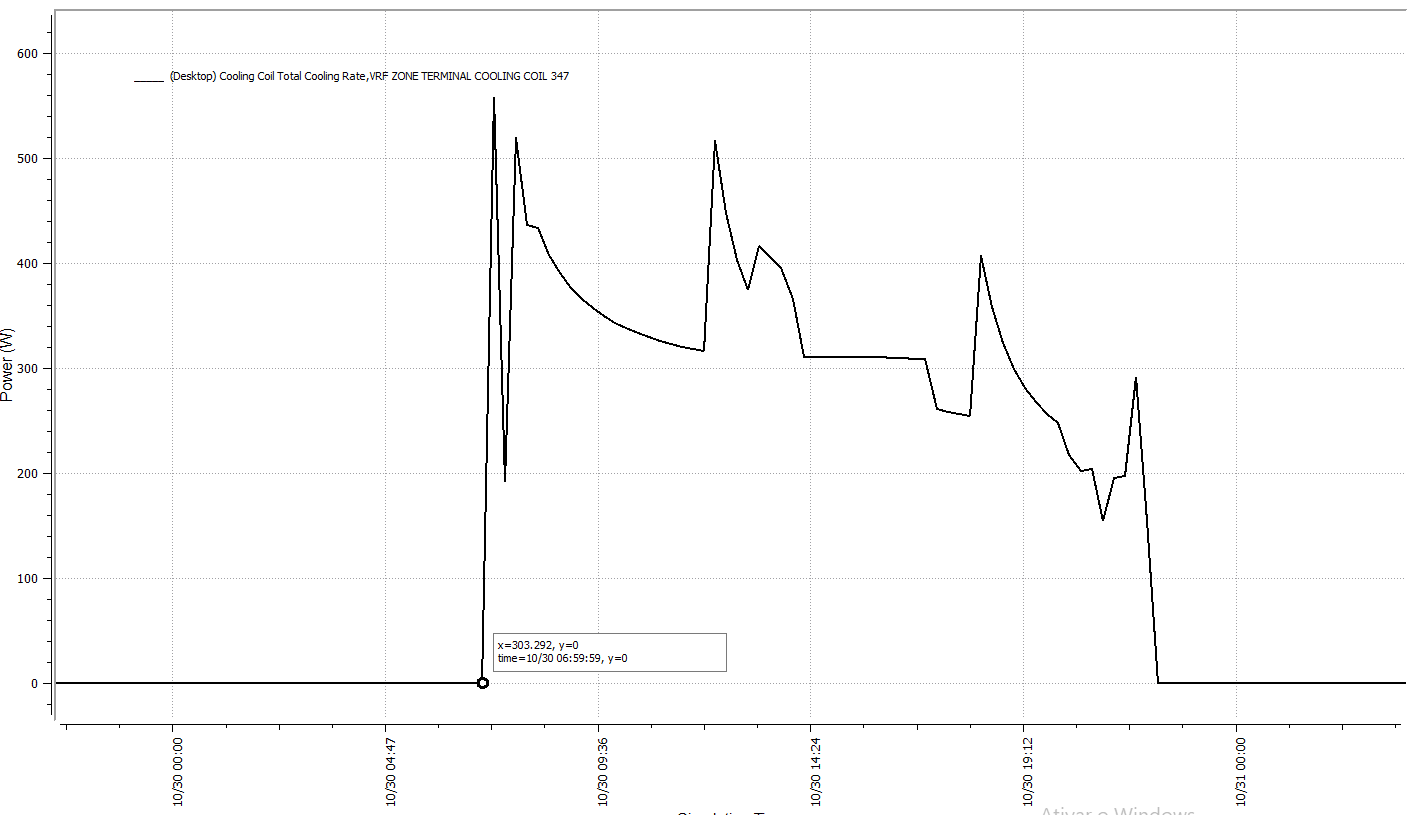 Picture 9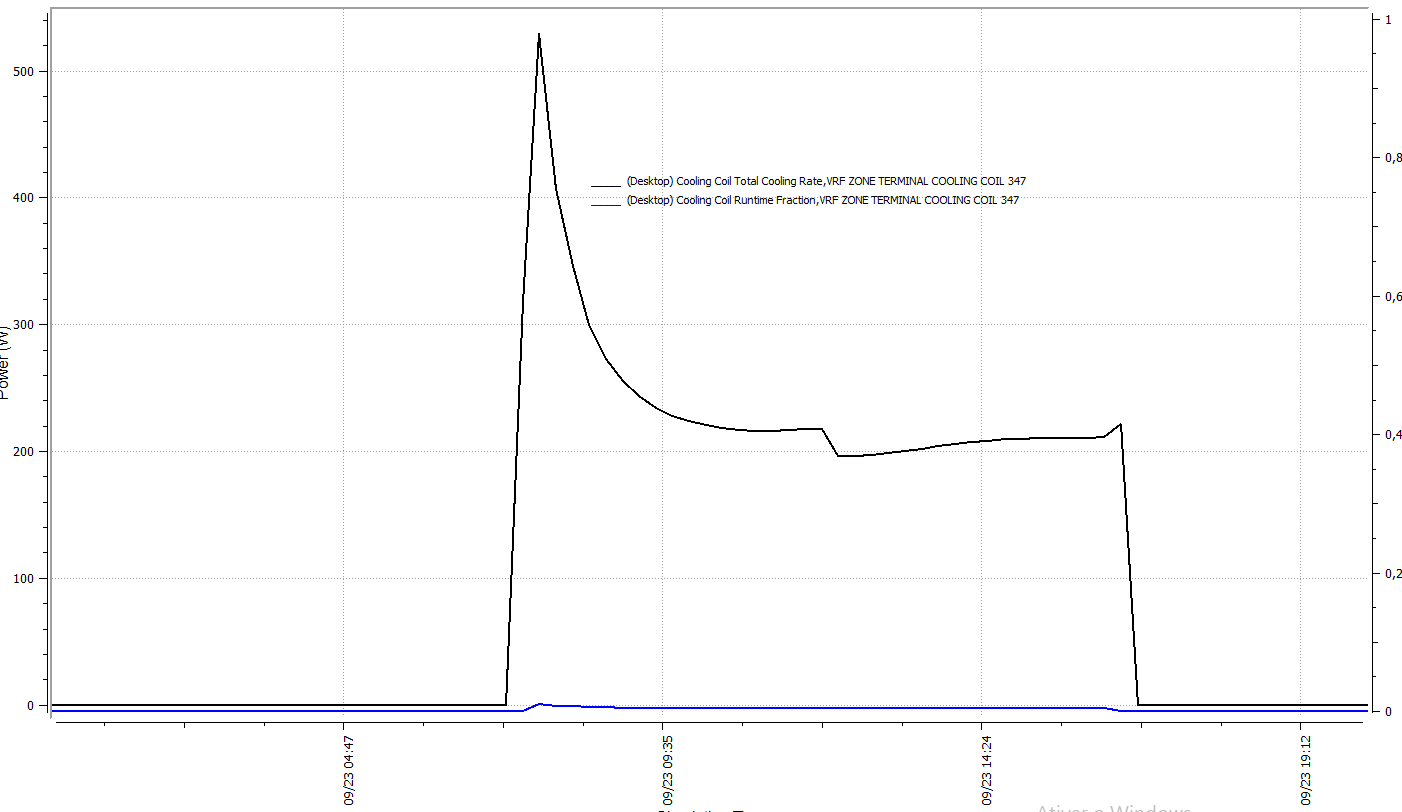 Picture 10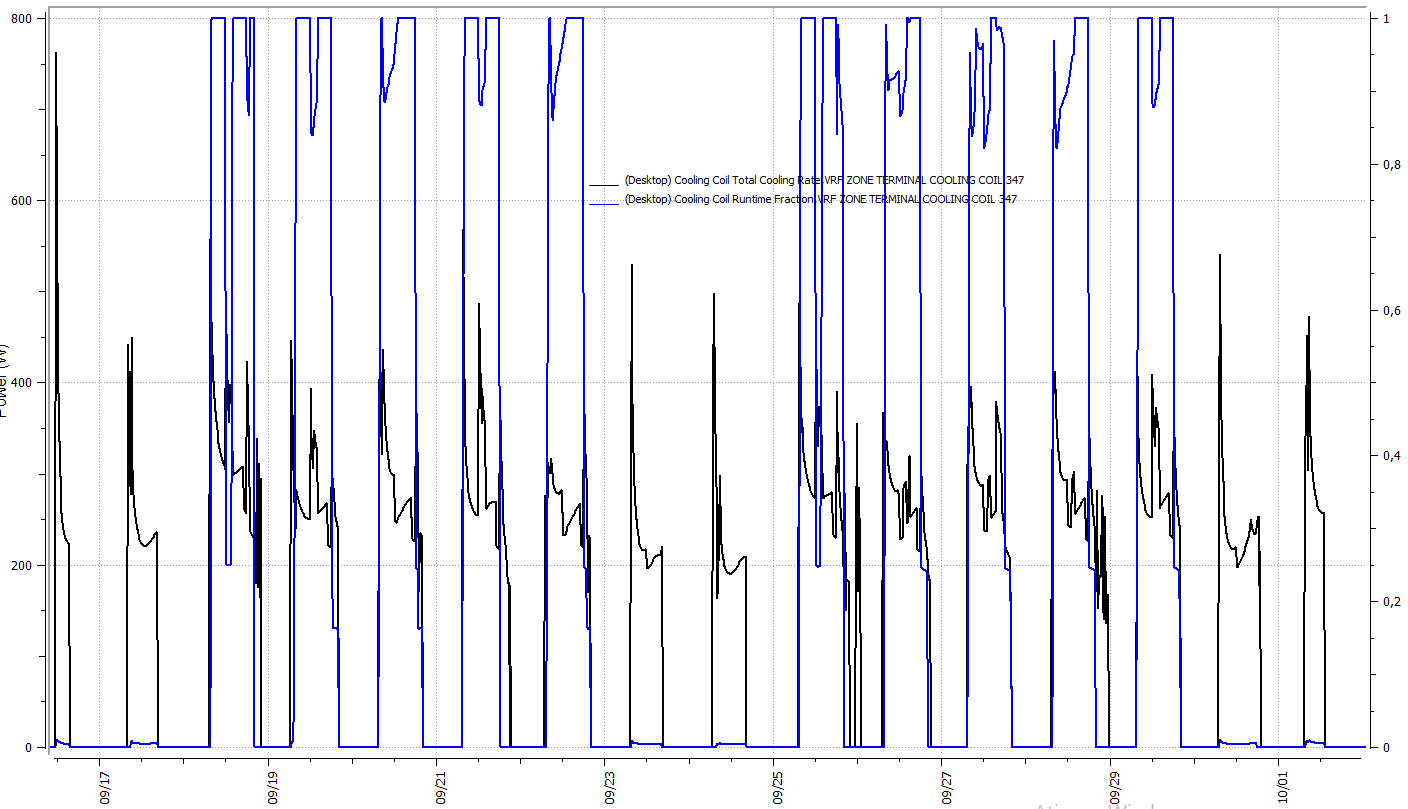 So my final conclusions are:
Availability Schedule is set to be ALWAYS ON for Terminal Unit, Fan and Coil ( value of 1);
Thermostat Schedule is set to be always on 23 degrees;
VRF Terminal Unit only operates on business hours, contradicting what its designed operation.
Does anyone know how can I fix this?
Thanks
Comments