Cannot find lighting and exterior equipment assigned in OS
I am using OS v2.4.
I only define two types of electric equipment definition using Watts Per Space Floor Area as shown below image.
However, when I look at the idf file exported from OS, I saw other definition is included using Design Level (I put one of the example below). I want to delete these definition in OS. But cannot find anywhere. Does anyone know where these are defined? Same situation for Lighting also.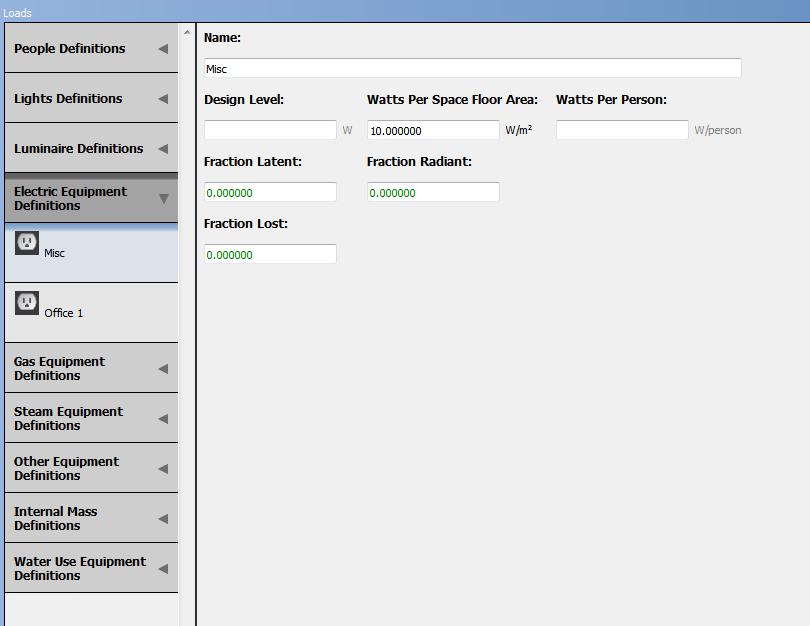 Lights,
    Lights 22,               !- Name
    28F_PlantRm1,            !- Zone or ZoneList Name
    All On,                  !- Schedule Name
    LightingLevel,           !- Design Level Calculation Method
    98.3999997801983,        !- Lighting Level {W}
    ,                        !- Watts per Zone Floor Area {W/m2}
    ,                        !- Watts per Person {W/person}
    ,                        !- Return Air Fraction
    ,                        !- Fraction Radiant
    ,                        !- Fraction Visible
    ;                        !- Fraction Replaceable

ElectricEquipment,
    Electric Equipment 10,   !- Name
    28F_PlantRm1,            !- Zone or ZoneList Name
    All On,                  !- Schedule Name
    EquipmentLevel,          !- Design Level Calculation Method
    196.799999560397,        !- Design Level {W}
    ,                        !- Watts per Zone Floor Area {W/m2}
    ,                        !- Watts per Person {W/person}
    ,                        !- Fraction Latent
    ,                        !- Fraction Radiant
    ;                        !- Fraction Lost

Comments