Chiller blocked at rated capacity
I really need some help here about the Chiller:EIR component in EnergyPlus. I've tried to go read the engineering references but I still don't get it.
I'm using an electric air-cooled chiller to model an air to water heat pump in cooling mode.
My problem is that the part load ratio won't ever reach 1. Even if my PLR max is 1, the chiller capacity is blocked at rated capacity.
I've tried to change the maximum PLR, then the evaporator cooling rate will be blocked at maxPLR*rated capacity but it feels wrong to put a max PLR higher than 1, that's not what supposed to happen.
A little screenshot to help you understand my problem :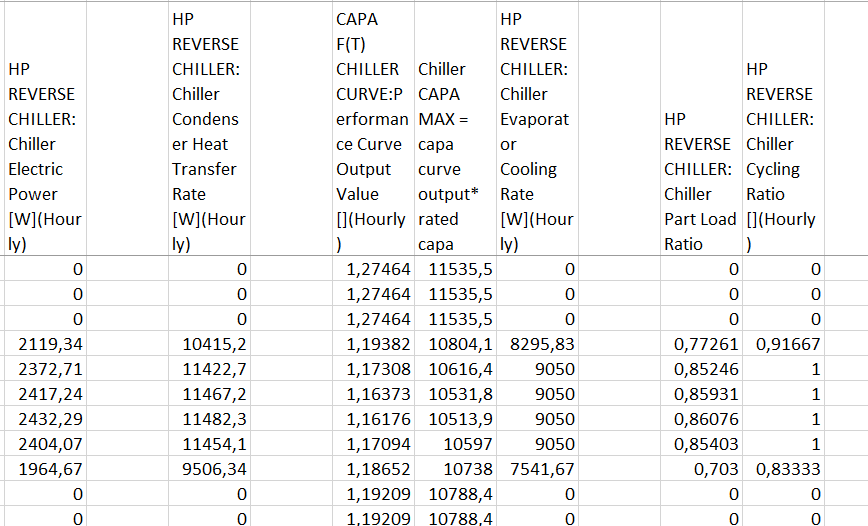 In this exemple the rated capacity is 9050W, when the cycling ratio is 1 the chiller should be working at full capacity (~10500 as it's my capacity multiplier*rated capacity) but it won't. I've tried to completely suppress any cycling by puting the min PLR and unloading ratios at 0, but it won't work either.
EDIT : And there is a screenshot of the operation with PLRmax = 1.2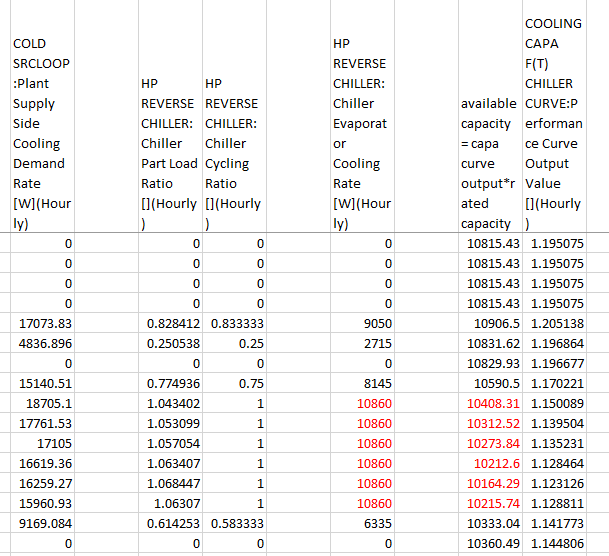 Now the cooling capacity is blocked at 1.2 *rated capacity = 1.2 * 9050= 10860 W
In this case the chiller can reach a PLR of 1, but also can go higher and that's the problem. It then provides more cooling than the available capacity.
My question is:
To reflect the real operation (What's really going on), what should I do?
Am I not looking at the right outputs?
To me, it looks like the max PLR should actually be 1, should I adjust the maximum PLR in the object so it's actually the case or is it wrong? Is there an other way?
---
Chiller object: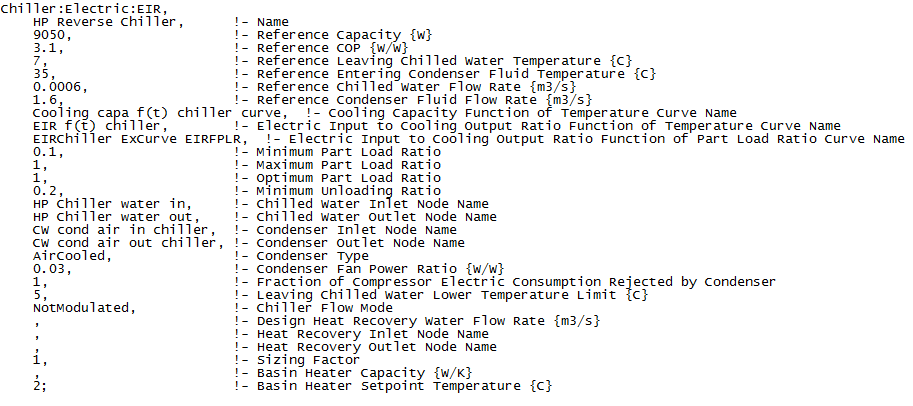 And this is the active operation scheme:

Also I'm not sure if that would make a difference, but there is a Fluid to Fluid heat exchanger object between the radiant floor and the chiller, so there are 2 different loops with different flows. (Chiller > heat exchanger & heat exchanger > radiant floor). I've checked the demand request for both these loops and it's higher than 9kW.
I hope you'll be able to give me some insight, I really need some help to get that so all my results are'nt false. :(
Comments