Fluctuations in Room air temperature, how to avoid this?
Dear All,
I have modeled a radiant panel system and simulating for few days of winter. I have fluctuations in my room air temperature. Is this what we expect in radiant heating system meaning sharp increase in indoor air temperature and then decrease or something can be wrong? I have no internal loads (people, lighting, equipment) in this zone. Your help will be appreciated. Here is the graph for indoor air temperature, the heating set-points are 12:00 degrees till 7:00 and 17 degrees till 17:00.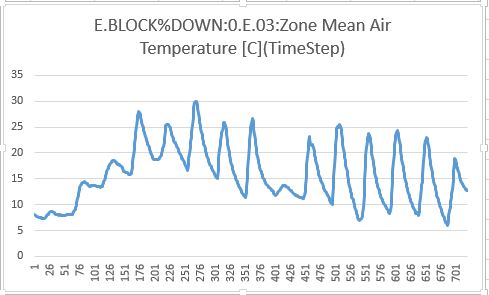 Below is my ZoneHVAC:LowTemperatureRadiant:VariableFlow object.
ZoneHVAC:LowTemperatureRadiant:VariableFlow,
E.03 Radiant Radiant Floor, !- Name
RadiantSysAvailSched,    !- Availability Schedule Name
E.Block%down:0.E.03,               !- Zone Name
Roof.E.03,            !- Surface Name or Radiant Surface Group Name
0.013,                   !- Hydronic Tubing Inside Diameter {m}
autosize,                !- Hydronic Tubing Length {m}
MeanAirTemperature,      !- Temperature Control Type
autosize,                !- Maximum Hot Water Flow {m3/s}
0.E.03 Radiant Radiant Water Inlet Node,  !- Heating Water Inlet Node Name
0.E.03 Radiant Radiant Water Outlet Node,  !- Heating Water Outlet Node Name
2.0,                        !- Heating Control Throttling Range {deltaC} 
Heating Setpoints, !- Heating Control Temperature Schedule Name
,                            ! - Maximum cold water flow (m3/s)
,                            ! - Cooling water inlet node
,                            ! - Cooling water inlet node
,                            ! - Cooling water outlet node
,                            ! - Cooling control throttling range (C)
,                            ! - Cooling high control temperature schedule
,                            ! - Condensation control type
,                            ! - Condensation control dewpoint offset
,                            ! - Number of circuits
;                            ! - Circuit length (m)