How to specify Supply Air flow at VAV
I'm trying to model a VAV system with reheat in E+, which I believe should not be very difficult. I added HVACTemplate: System:VAV and auto-sized all capacities based on specified DesignDay. Now I would like to specify (hard size) the equipment capacities in the expidf.
I have specified the supply air flows in Sizing:System as shown below ( 0.428571, 10,500 cfm, 4,500 cfm). The Equipment Summary report is showing the specified air flow (10,500 cfm); however, the hourly values of the MIXED AIR OUTLET:System Node Mass Flow Rate are much less than an air volume of 4,500 cfm (10,500 x 0.42857). I was looking at the hours when the system is supposed to operate continuously. This does not seem right and it looks like I didn't specified the supply air flows correctly. How do you guys specify the supply air flow and minimum supply air volume so that the equipment capacities are consistent with the mechanical schedules? I need to mention that I did not make any changes at zone level and all zones in Sizing:Zones are autosized based on DesignDay.
Any help would be greatly appreciated! My apologies if the question is too basic.
Sizing:System: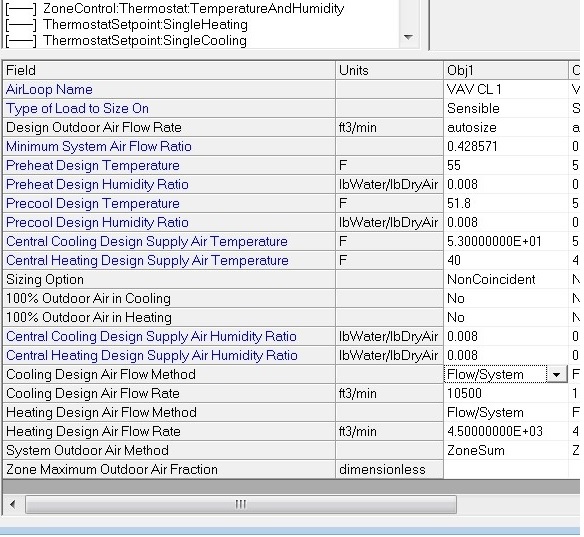 Comments