CAV air system with constant temperature
I'm struggling for quite a while now with my simulation model in EnergyPlus. I hope someone can give me some advise how to solve this problem.
A short description of my case: I'm modelling a one zone model with one window. The HVAC system consists of: - a climate ceiling with a constant temperature and a variable flow to provide both heating and cooling - a Constant Air Volume (CAV) ventilation with a constant volume of 60 m3/h with a constant temperature of 18oC with humidification and dehumidification
The problem: The climate ceiling works well and provides the appropriate air temperature in the room. But when want to include the CAV ventilation this doesn't work out the way I wanted. I tried several options: IdealLoadAirSytem, model the system myself in different ways. But I didn't manage it to get it right. I think the problem is that the Air system wants to react on a certain thermostat. But in my case the airflow and temperature has to stay constant in a certain humidity range (43-54%) and don't have to react on the room temperature.
In the graph below you can see that the dehumidification does not work. By setting a 'temperatureandhumidityratio' in the coil controller I tried to dehumidify the air but it seems not to work this way.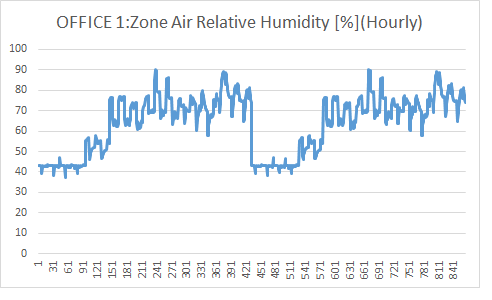 Here is a link to the IDF-file.
Comments