What are the Best Unit Settings in SketchUp for OpenStudio Models?
I would like to draw an OpenStudio 1.9 envelope in the Sketchup 2015 OS plugin and avoid having tiny surfaces (area under 0.1 m²) or adjacent surfaces with tiny spaces between them (<1/16"). These two issues seem to be causing problems when I run the intersect and surface matching scripts. Is there an ideal Sketchup setting under "Window -> Model Info -> Units", particularly for the settings "Precision" and "Enable length snapping"? I have been using the program defaults seen in the screenshot below, but would like to know if changing these settings will affect the OpenStudio model, and if so, does anyone recommend a setting? @David Goldwasser or @macumber?
When I run the surface matching script, I have found many surfaces do no match because they have a tiny space between them (<1/16"), or a tiny surface on one of the surfaces (a line <1/16" from another line). These cannot be seen unless I zoom way in. I am not intentionally drawing tiny lines, and am thinking they are a result of Sketchup's precision and length snapping settings.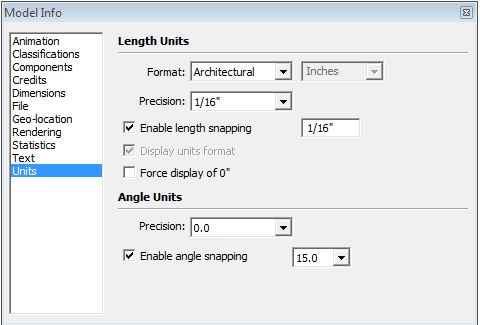 Comments