how to create an interior window?
I'm using the sketchup plugin and openstudio 1.9 to modelize a passive solar greenhouse for a cold climate. The grenhouse is seperated in two thermal zones, a cold one (in blue) and a hot one in red). The hot section of the greenhouse has every outside suface insulated. The light first passes through the cold section of the greenhouse and then through an interior window to get to the hot section.

In order to create an interior window, I had to create two subsurfaces, one on each side of the interior wall. Same procedure as in this post. However, by proceeding like this, I obtain two adjacent subsurfaces when in fact I only want one window between the two spaces.Should I break the construction of the window in two and assigne one half to each subsurface or is there an other way?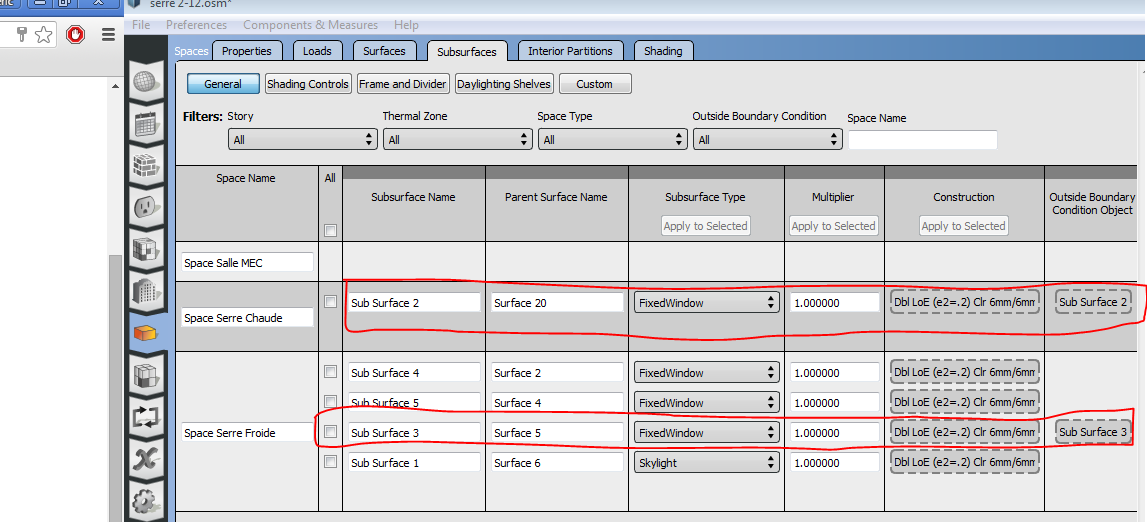 I also wanna make sure that the light passes through this internal window and that the hot section of the greenhouse gets the heat gain from solar radiation. So I checked the output variable Zone Windows Total Transmitted Solar Radiation Energy when running the simulation for weather file run period. The results show me I have no gain in the hot section. This makes sense considering this output variable sum only the exterior window according to EP documentation. Is there a way to obtain the transmitted solar energy for an interior window in OS?