DesignSpecification:OutdoorAir and ZoneVentilation:DesignFlowRate
I was importing the DOE reference building EnergyPlus model for medium office into OpenStudio and turned on the Ideal Air Loads in OpenStudio to see if the sizing result would be different between OpenStudio run and EnergyPlus run. From the results, I did see a significant difference (max difference ~2300W) in the "Calculated Design Load" for "Zone Cooling" from the html output file.
Then I checked the IDF file generated by OpenStudio and compared with the original Reference building model. I can see that OpenStudio exported IDF has defined "ZoneVentilation:DesignFlowRate" objects for each zone.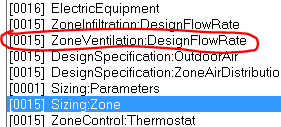 The original EnergyPlus model has only the "DesignSpecification:OutdoorAir" objects for each zone. I tried to copy and paste these "ZoneVentilation:DesignFlowRate" objects from the OpenStudio exported IDF file to the original IDF file and ran the simulation again, it did eliminate most of the difference between the zone sizing load.
My questions are:
Is there a way to set OpenStudio model to not generate the "ZoneVentilation:DesignFlowRate" objects since they are causing the differences?

Even when I matched the input files by adding the "ZoneVentilation:DesignFlowRate" objects to the original EnergyPlus model, there is still small difference in the zone load(~50 Watts). Since they were results from the same version of EnergyPlus engine, What could be causing the differences?
C:\fakepath\OriginalEnergyPlusOutput.PNG
C:\fakepath\OpenStudioOutput.PNG
C:\fakepath\ModifiedEnergyPlusOutput(Added ZoneVentilationDesignFlowRate Objects).PNG